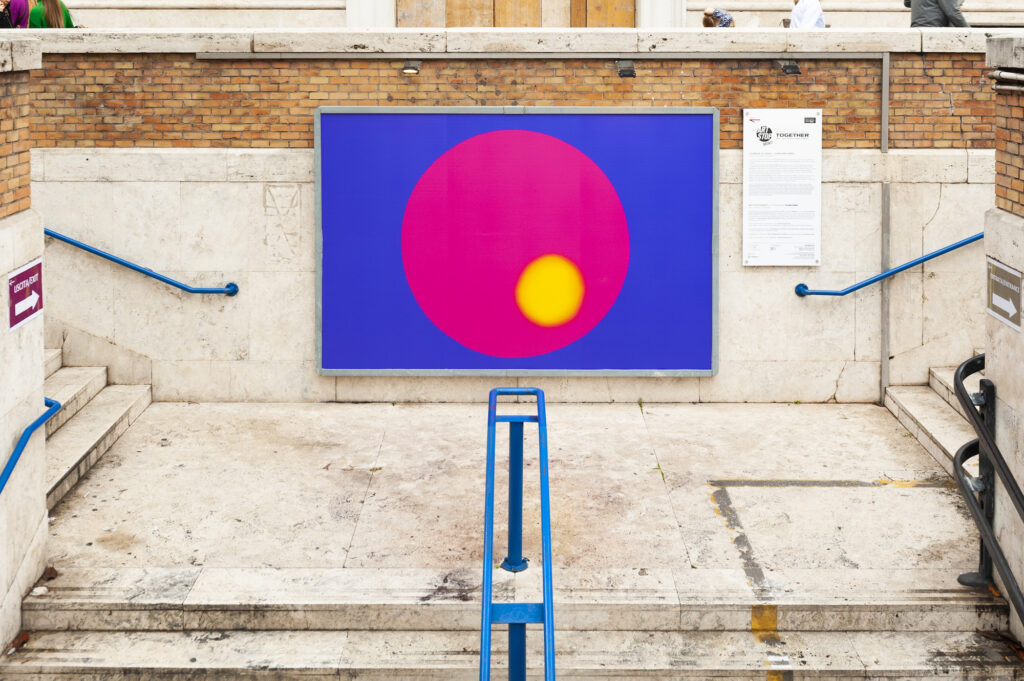 Selected as one of the five artists to present two artworks to be installed at Stazione Cavour in Rome, Italy as part of Art Stop Monti's public commission program "Together" of 2021.
Dusk and Dawn are the two artworks created for Art Stop Monti represent and abstraction of a dusk and a dawn. These natural phenomena create collective experiences that unite their spectators, making them all equal. Dusk and Dawn presents this concept by also considering the urge we have in documenting all our experiences with the use of technology. This uncontrollable impulse of digitalizing most of our activities creates a different type of collectiveness: the same impulse that isolates us in the physical world, unites us in the digital world through the virtual sharing of these moments. This diptych proposes a collective experience of a digital dusk and dawn, embodying the paradox of unitedness and isolation which emerge when we find ourselves in front of these natural phenomena and online.
A very important part of Dusk and Dawn is the context in which it is installed. The contrast between the dynamism of urban transport, which allows us to conduct fast routines, and the natural phenomena represented by the artworks, which tend to slow us down to contemplate them. The intention is to create a collective experience to unify the viewers in a space where these social connections do not happen.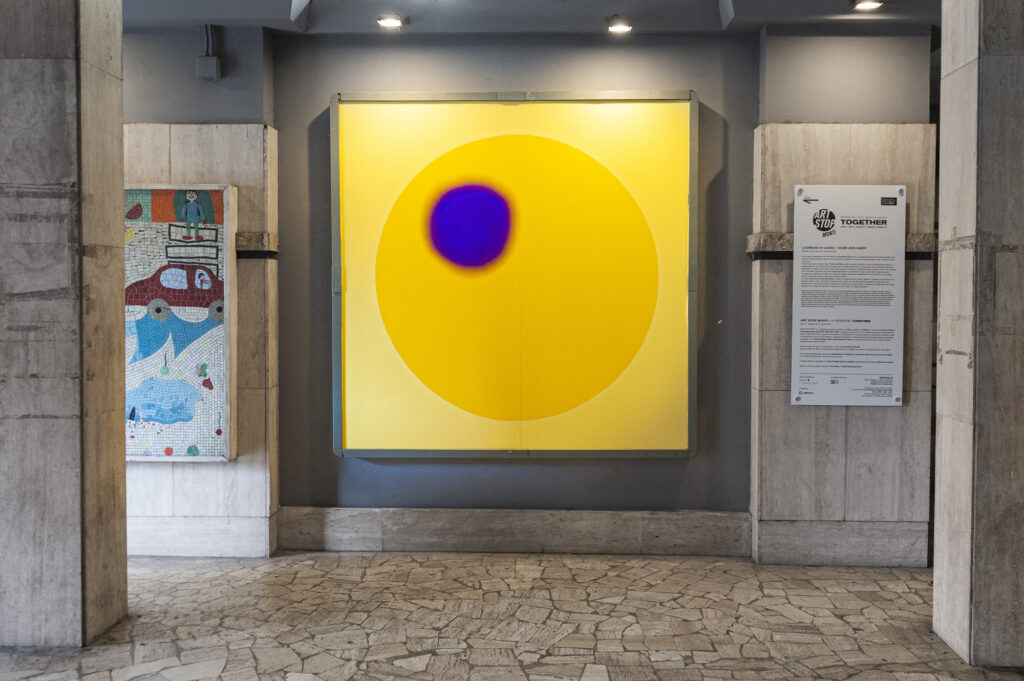 Selezionata come una dei cinque artisti per installare due opere alla Stazione Cavour di Roma come parte del programma di commissioni publiche di Art Stop Monti del 2021, "Together".
Dusk and Dawn sono le due opere realizzate per Art Stop Monti e rappresentano un'astrazione dell'alba e del tramonto. Questi fenomeni naturali creano esperienze collettive che uniscono tutti gli spettatori, e per un attimo li rende tutti uguali. Dusk and Dawn presenta questo concetto in chiave contemporanea tenendo in considerazione la forte spinta di documentare tutte le nostre esperienze con la tecnologia. Dall'irrefrenabile impulso di digitalizzare la maggior parte delle nostre attività, possiamo trovare una collettività diversa: lo stesso impulso che ci divide nel mondo fisico ci riunisce nel mondo digitale attraverso la condivisione virtuale di questi attimi. L'opera propone un'esperienza collettiva, di un'alba ed un tramonto digitali, incarnando il paradosso di unione e divisione che emerge quando ci ritroviamo davanti a fenomeni naturali ed online.
Una parte essenziale di Dusk and Dawn, è inoltre il contesto fisico nel quale è installato: il contrasto tra il dinamismo del trasporto urbano, che ci permette di eseguire routine veloci, ed i fenomeni naturali rappresentati nelle opere, che tendono a farci rallentare per poterli contemplare. L'intenzione è quella di creare un'esperienza collettiva di unione tra gli spettatori in un luogo dove queste connessioni sociali di solito non vengono eseguite.